In honor of
observing the Season of Advent
and trying to remain simple in
our traditions and acts
this year, we haven't done much in the way of "holiday" activities other than introduce Blaise to the beauty of Christmas lights. He was enthralled. Our tree is simply decorated with just lights for now, and we are going to put some simple greenery in mason jars around our house. Our nativity has already gotten some love - Dom added Lightening McQueen to the gathering almost right away, forewarning him that Jesus wouldn't be arriving until Christmas.
Tomorrow, with the arrival of December, marks 3 years of parenthood for David + me, and 3 years of our sweet, wonderful boy, Dominic. It has been such a beautiful journey watching the alert little face that finally arrived after several long days of labor to greet me with a screech. The face, still alert and curious, has grown into a little boy, a boy with a comment to go with every happening, an imagination that every mother should hope for, a liveliness that energizes every day, and an all around excitement for everything from learning his prayers by heart to greeting his brother every morning with an "I love you," I'm so thankful to be the one chosen to be this guy's mama.
Out of the Mouth of Dom
In honor of his birthday, you'll have to wait til tomorrow until I showcase some of my favorites from the past year.
Blaise Updates
B has refined his own method of getting around. It is basically a scoot on his bum, but with one leg tucked behind and one in front as though half in a sitting position, half in a crawling. It's odd, but for now it's doing the job for him, and he seems to have no desire to change. He is uttering new sounds, and trying hard to say "water" and "more" vocally instead of just in sign language.
Watching
David + I are making our way through Upstairs Downstairs: Season 2
. I find it a wee bit more enjoyable than the first probably due to the fact it is during the period of time right on the brink of WWII, a period I find most fascinating. It's available streaming online on PBS if you are interested in watching it - not sure how much longer it'll be there. It's the perfect buffer for us to fill the time until...
Listening to
Advent at Ephesus
by the Benedictines of Mary Queen of Apostles
and a few songs from
Advent, Vol. 1.
by The Brilliance. Missing my Christmas music for sure, but enjoying these gems for now.
Any other Advent-esque tunes out there?
Recommended Links
Also, don't forget to link up on Monday with your Advent + other holy days posts at the
Little Holy Days
Link Up!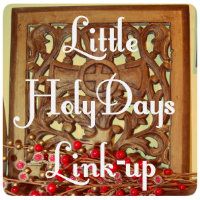 ::This blog post contains Amazon Affiliate links. By clicking through to make any purchase, you help support Two Ortizes + More::