As I sit and type this out my house is at peace. The only sound is a lovely compilation of Advent music (partly mine, and partly
a list put together by Haley of CfM
) as miraculously, both my tired, grumpy boys have chosen to sleep simultaneously. A steaming cup of Holiday Chai tea sits beside me. All the lights in the house are off save for my Christmas tree decorated simply only with a strand of white lights. A lit candle gives off an aroma of clove and orange masking out any unpleasant remaining lunch and diaper smells from the day. It's a lovely scene, yes. I think many people would agree that this I have created a place of peace. And, yes, I'd agree, I feel peaceful. But, perhaps a better word to describe
this
is calm. A moment of tranquility.
This second week of Advent marks the week of Peace.
Peace which was brought to this earth in the form of a tiny baby sent from Heaven to be our Saviour. So many people consider Peace to be when all is right with the world, or when there is no longer wars, famines, disasters, etc. 'Peace on Earth' often becomes a call for ending wars, implying that Peace has not yet come.
On a smaller scale, many would not say that my house this morning had any sort of Peace in it. My super teething 11 month old was following me around with a constant whine, after a restless night of sleeping maybe 8 hours. My 3 year old had decided that today was the day to question everything I said. Suitcases and random baggage alongside heaps of dirty laundry and gross dishes decorated the main part of our house. I was becoming super frazzled as everything seemed to come undone. I finally shoved a shower into the morning schedule around 11am, and my first and second sips of coffee were nearly an hour and half apart. It was not what anyone would term "Peaceful."
But I challenge you that it was.
Peace has come. Peace is here. Peace is Christ With Us.
Emmanuel. Peace isn't a feeling, a wish that war would end, a quiet afternoon for mama. Peace isn't the pieces falling into place with the day's schedule. Peace isn't making friends with the whole world. Peace is a Baby that a little more than 2000 years ago was inside the womb of a Virgin.
Peace is the fact that God chose to send His son to be here with us. That
God is with us not despite, but rather alongside the storms in our lives.
This past year has been hard for many. There are many without work. Families who lost their homes in Hurricane Sandy. Parents and other family members who have passed away. Other diagnosed with horrible diseases. Children who have died before their time. Unexplainable events and happenings that leave our hearts aching. But God has never left us. This Advent we once again refocus our thinking to remember that Peace was made manifest to us in the Christ child, who came to dwell amongst mankind.
Just like our Hope remains as long as we have Christ,
may we remember that we always have Peace, because Christ came to be with us.
Linking up at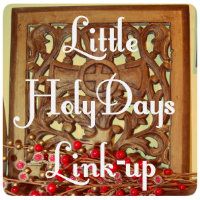 Note: Whilst researching Advent over the past month or so, I've found conflicting reports on whether week 2 is the Peace or the Love week. We've always considered it the Peace candle. Does anyone observe Week 2 as the Love candle? I'm truly interested to hear more, so please share which you do and why!
Want to follow my blog?
It's easy - subscribe via the RSS or email links in the top righthand corner.
All rights reserved. ©Sarah G. Ortiz
::This blog post may contain Amazon Affiliate links.
By clicking through to make a purchase, you help to financially support TO+M::