Santa Claus seems to be a widespread debate amongst Christians. Whether it's to avoid him completely or embrace him fully or to be somewheres in the middle, there are so many reasonings behind it all.
We have decided not to "celebrate" Santa, but we aren't avoiding him altogether.
I've had several people question our decision purely as a way to learn more, so I thought today, as we approach Christmas Day quickly, I'd share a little behind why we have decided to bring in certain parts of the Santa excitement but stay away from most of it.
David and I both grew up in strong "anti" Santa homes, if you will. I grew up always responding to the question, "What's Santa bringing you for Christmas?" with the response: "Oh, we don't celebrate him," which always elicited the most surprised looks on adults face. In my house growing up, we knew mom and dad supplied gifts that made it under our tree and into our stockings. When I was little we also mostly stayed away from any movies and books that were focussed on Santa. We did have the rule that if a child asked us about Santa, we were to respond, "He doesn't visit our house because we don't celebrate him" so as not to ruin some other child's belief. I still remember thinking my 11 year old friend was probably old enough and knew of Santa's non-existence, and then breaking her heart when I casually mentioned, "Oh, well you know he's not real..."
St. Nicholas traditions made it into my family's annual celebration later in my childhood, closer to when I was nearly done with high school. This is something our family has chosen to embrace fully. If you want to see how we celebrate, read my post:
Celebrating Holy Days: St. Nicholas Day
from earlier this month.
We love legends and stories. We love teaching our kids of the truths of our Faith. We love whimsey and magic, and we love passing on traditions.
But, as far as Santa Claus is concerned, we have chosen to focus on Christ for Christmas and to celebrate St. Nicholas on his feast day for the godly, loving, and giving man he was rather than "believe in" the jolly, plump man that magically slides down the chimney to deliver gifts galore.
And here is why:
We
don't want to purposefully deceive our children
. I know Santa Claus isn't real, and I plan on teaching my little ones that. I'd rather not create this false world for them to believe in, only to dash their dreams in a decade when they learn I made it all up.
I truly abhore the gimmies
. I hate the lists in which children write down their demands. Granted, I don't believe that every family who celebrates Santa goes to the full extreme, but I have seen way too many kids declare how Santa better be bringing them this ridiculously overpriced item. Really? That's the "giving" spirit that Santa brings? I just don't want it in my house.
And lastly,
we already have a #1 star of the holiday
. Why do I need to create a competitor? In our house, we talk about Jesus' birth, make plans for his cake, and prepare for His coming as Emmanuel all throughout the season of Advent. Why would I bring in a 2nd character to "share the glory" on Christmas Day?
We want to teach our children that the Feast of the Nativity is a miraculous and glorious event, not to be foreshadowed by a man squeezing down our non-existent chimney to deliver up the goods. We want them to know
the true "goods" are our Salvation and Christ being with us
, not the latest toy.
So, yes, we do still read tales, sing songs, and watch movies about Santa Claus. He's a lovely made up and fun person to enjoy. But, we've chosen to never impress upon our children that he is real. Rather we have chosen to embrace him as a fictional character that falls way behind the Nativity story and the Christ Child in our Christmas celebrations.
Please note, this is just our personal decision, not a standard we're judging anybody by. So, please don't feel like I think you're wrong or leading your children astray in how you choose to celebrate Christmas. Everyone has a reason for they way they do things; this is just ours.
Linking up at: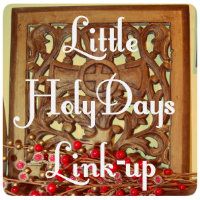 Want to follow my blog?
It's easy - subscribe via the RSS or email links in the top righthand corner.
All rights reserved. ©Sarah G. Ortiz
::This blog post may contain Amazon Affiliate links.
By clicking through to make a purchase, you help to financially support TO+M::