St. Valentine's Day is coming up this week, and love (or the ideas that the common public have of it) is in the air. I'm not a huge fan of celebrating Hallmark holidays, but St. Valentine's Day is not actually a true Hallmark holiday. Sure it is now, but it originated with the feast day of a martyr. With both Lent and Valentine's Day mooshed right into one week, I've been thinking alot of my marriage and how I can better serve LegenDaddy. I often get caught up in the service of our home and our family, and I think I sometimes forget to pay specific attention to him and pointedly serving and loving him.
Serving me is definitely one of his strengths - he never ceases to amaze me with how he likes to surprise me and how much he thinks of me first. At this very moment, I'm enjoying quiet moments to focus and write as he lovingly pushed me out of our house of neverending craziness and noise, which has been especially stressful this week, and aim me in the direction of one of my favorite coffeehouses.
Every day is the perfect day to start strengthening your marriage, to add some romance in the midst of busy lives, and to truly and actively appreciate one another. I am learning this more each day. I challenge you to pick a few of these (or all of them, if you're feeling ambitious), and letting your husband know what a blessing he is to you and your family. I am aiming to complete this list by Easter, which I think is completely doable. So, join me in working on strengthening your marriage and celebrating this important Sacrament that it part of your life.
1. Write short love notes, and hide them in his pockets, his briefcase/backpack

2. Wake up early in the morning and make a special breakfast to enjoy before the kiddos wake up.

3. Make a fancy dinner for after you put kiddos to bed.

4. Using your spouse's love language, make him feel loved.

5. Have a conversation and avoid any nagging or complaining. Don't know about you, but this is a hard one for me.

6. Compliment something he does or wears or makes.

7. Think of some reasons he makes you proud. Tell him.

8. Stop and look into his eyes when he's talking to you.

9. Make his favorite dessert or other treat Might have to wait til Lent is over for this one...

10. Encourage him to spend time with his men friends.

11. Initiate. Kisses, sex, you name it. Make a move.

12. Text him spontaneous fun and flirty texts throughout his day. Bonus points for less words used.

13. Change your sheets and make up your bed, so it looks nice. Maybe you already do this, but I sure don't.

14. Play his favorite game or watch his favorite movie.

15. Surprise him with a phone call in the middle of the day ONLY to tell him you love him.

16. Write him a list of the some of the reasons why you love him.

17. Buy him a gift he's had his eye on for awhile.

18. Do a chore that you usually leave for him. Take the garbage out, shovel the walkway/driveway, clean off his car...

19. Dress up for him for no apparent reason.

20. Give him a backrub or neckrub. Shoot, we love them; I'm pretty sure he would, too.

21. Verbally affirm in front of your children.

22. Get somebody to take a picture of you, and print it and frame it for him.

23. Pray together. The rosary or Evening Compline is a perfect way to end your day before you head to bed.

24. Ask him about his hopes and dreams.

25. Tell him you love him before he tells you. Do it often.
What would you add to this list? What are your favorite ways to let your husband know you love him?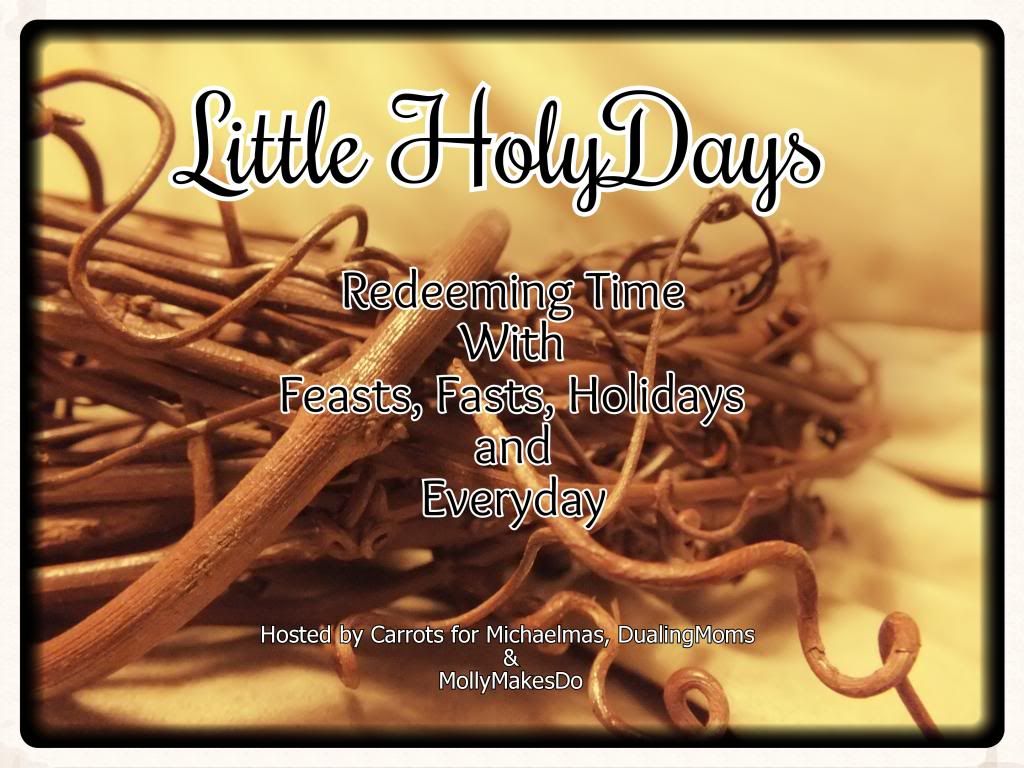 This post is linked up with the Little HolyDays link-up. This link- up is focussed on, but not limited to, Lent, St. Valentine's Day, Mardi Gras, and Ash Wednesday. Please click on the link to read other wonderful articles and share your own!
Want to follow my blog?
It's easy - subscribe via the RSS or email links in the top righthand corner.
All rights reserved. ©Sarah G. Ortiz
::This blog post may contain Amazon Affiliate links.
By clicking through to make a purchase, you help to financially support TO+M::