The Feast Day of a great Saint, St. Catherine of Siena, is circled on our liturgical calendar for next week; however, life is going such these days that I'm pretty sure it's going to be a very simple celebration for us. Since I'm sure there's a good chance that many of you are also in a busy season of life, maybe one of these quick and easy ways to celebrate will resonate with your family.
For a quick intro to this strong and memorable woman... Catherine was born in 1347 into a super large family, the 23rd child. Growing up she was always a devout child, and at age 16, she entered the Third Order of the Dominicans. Her great wisdom and spiritual leadership gained her a following. She sought for peace between the Pope and Florence and took a strong stance in the crusades against the Turks.
In 1378 the Great Schism happened, and Catherine, taking the side of Pope Urban VI, spent her last years of life pleading for unity within the Church. At the age of 33, Catherine died due to a mysterious illness. She was canonized 81 years later after her body had been found to be incorrupt some years before. Pope Paul VI gave her the title of Doctor of the Church in 1970.
So here you go, 7 fairly easy, pretty cheap, and overall simple ways to celebrate St. Catherine of Siena.
This one's pretty easy. Siena, where she was born, and Rome, where she died, are both in Italy.
Ribollita
, this recipe from the Food Network and Ina Garten, is a soup that is considered a traditional Sienese delicacy. Or just serve up some bruschetta with an Italian wine and call it a wrap.
Print off some quick coloring pages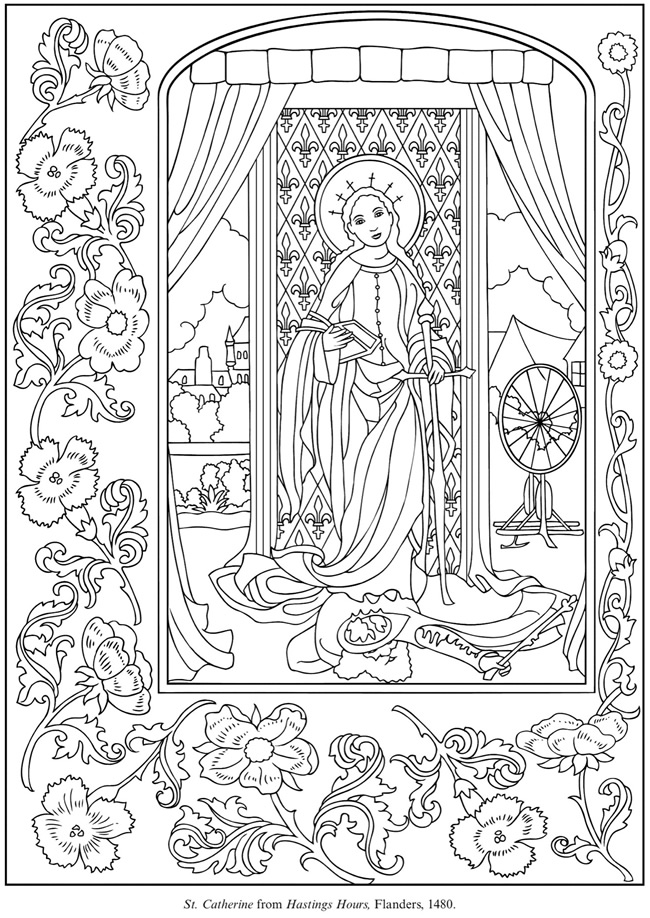 This coloring page from
Dover Publications
is my personal favorite, but if that one is overwhelming for young artists,
this lovely printable
from Charlotte of
WaltzingM
.
Read a book about St. Catherine
I am just starting
Catherine of Siena
by Sigrid Undset, which is a great book on St. Catherine for adults. However, this series of Saints stories from Mary Fabyan Windeatt is great for older kids to read to themselves or for younger kids to listen as it's read aloud. This book in particular is perfect for today:
Saint Catherine of Siena: The Story of the Girl Who Saw Saints in the Sky
.
There are many wonderful quotes from St. Catherine. A few of my favorites include:
"We trust and believe in what we love."
"Love does not stay idle."
"The soul cannot live without love. She always wants to love something because love is the stuff she is made of, and through love I created her."
Catholic Cuisine has
an easy heart cake
, a French custom, which is perfect for dessert on this feast day.
Treat a nurse or a firefighter
Among many other things, St. Catherine is the patron saint of nurses and firefighters. Know one? Send them a personal thank you for how they serve your community. Don't know one? Send a general card to your local fire station or the nurses at your doctor's office or hospital.
6.
Pray the Collect for the day:
O God, who set Saint Catherine of Siena on fire with divine love in her contemplation of the Lord's Passion and her service or your Church, grant, through her intercession, that your people, participating in the mystery of Christ, may ever exult in the revelation of his glory. Who lives and reigns with you in the unity of the Holy Spirit, on God, for ever and ever.
Quite a bit longer than the Collect, but I know my kids get a kick out of praying Litanies since there are lots of responses that they can join in on.
Happy Feast Day of St. Catherine of Siena!
Don't forget Monday (as in 2 days from now!) is the last, last chance for you to grab the
Ultimate Homemaking Bundle
for the great deal of $29.97! If you haven't checked out the many eCourses, eBooks, and bonus treats it includes, click on the link below to find out!
Buying through my affiliate links gives me a small portion of the sale and truly helps our family out! Thanks in advance!
Want to follow my blog?
It's easy - subscribe via the RSS or email links in the top righthand corner.
All rights reserved. ©Sarah G. Ortiz
::This blog post may contain Amazon Affiliate links.
By clicking through to make a purchase, you help to financially support TO+M::