I kind of think of Easter baskets being to Easter as stockings are to the celebrations of Christmastime. It's a family tradition for us to
fill our kiddo's baskets with small and simple treats
to celebrate the day and mark it as a day that is special for our family. As with Christmas stockings, I think the majority of Easter basket fillers that are promoted and marketed are pretty much plastic junk that will either break leaving your little one in tears or will be something you hate within the week. I wrote a post back in December with some
simple stocking stuffer ideas for kids ages 0-5
, and many of the ideas could be reused for Easter baskets.
Easter is sneaking up very quickly this year - it's only a mere 25 days away, which yes, is several weeks off, but if you hope to shop handmade or be in search for quality basket fillers, you're going to want to start sooner rather than later.
Here are some ideas to get you started in filling your children's Easter baskets with simple, yet fun treats they can enjoy.
I aim for simple, well-made, and not too expensive
. I also will use the following guide to help you in your shopping. Best of luck!
O = Organic G = Green/Eco-friendly U = Made in the USA
H = Handmade C = Can probably be found Consignment/Used
D = Can be DIY L = Can probably be found Local
Note: I have a 1 and a 3 year old, so I'm aiming this list towards 0-6 year olds. Some items are obviously more suited for certain ages - please note food items should be considered for your child's age and sensitivities/allergies.
First step:
a basket
. I suggest checking out your local thrift or consignment shop for MUCH cheaper options. You can easily fancy up an old plain basket with some ribbon, paint, or glitter. Depending on how much work you want to put into it, you could easily come up with a basket that you'd otherwise pay $20-$30 for.
G, H, C, D
O, U, H, D, L
So many possibilities with chocolate, but I think after Lent, everybody deserves a little chocolate. We'll be getting these adorable locally made bunnies from Hedonist Chocolates. I suggest you search out your own local mom and pop candy or chocolate store for tastiness for your baskets. Chocolate eggs, also a wonderous thing.
Ecco Eggs - Compostable Easter Eggs 100% Renewable
G
To fill with little edible treats or stickers, these are a perfect green option to the otherwise Made in China plastic eggs you'll typically find.
The perfect fairly healthy snacks to go inside the above eggs. Annies makes crackers, cookies, and gummy bunnies that are all a huge treat in our house. A sweet treat that is a much more 'real food' option than most packaged treats.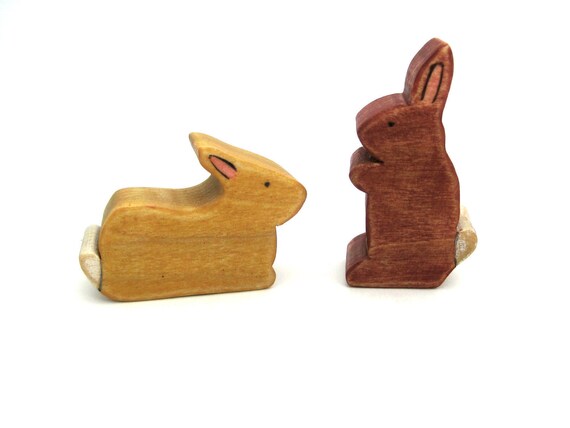 U, H
I love this Etsy seller - fantastic Waldorf style toys for little ones that are well made and inspire creativity and imagination. Right now they have a whole section devoted to
Easter + Spring
.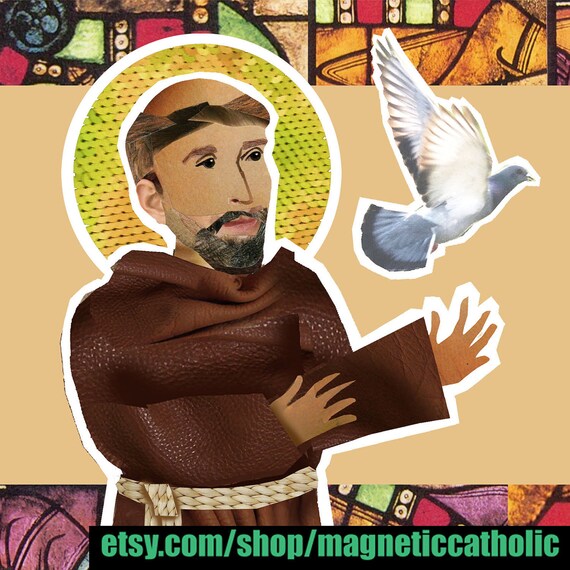 U, H
We don't own any of these yet (sadly), but they are on my "to buy for the boys soon" list. Maybe *we'll* get some in our Easter baskets. So many awesome saints featured here, and I would like to point out the shipping is fabulously cheap.
My First Wooden Rosary
Non toxic paint and wooden, so perfect to keep young hands and possibly gnawing gums quiet during mass as well as a perfect way to introduce young children to praying the rosary.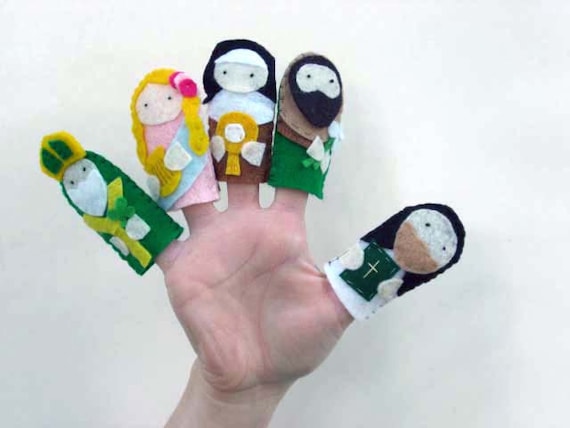 U, H
So cute and they probably would even fit inside an egg. Another great handmade artist featuring many different saints.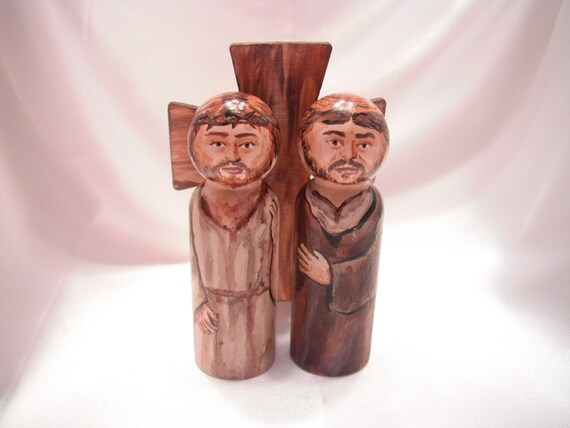 U, H, D
This is a possible DIY though I know I could never do as beautiful a job as this. If you are feeling crafty though,
Wooden People in Assorted Sizes
are fairly easy to come by. Another Etsy shop with lovely peg dolls is
St. Anne's Pixies
.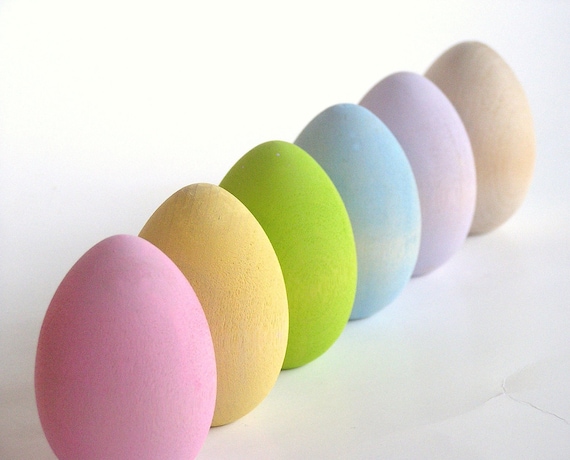 G, U, H, D
Easily support buying handmade by buying from the shop above, or you could buy some
Wooden Eggs
, search the internets for a dying process, and make your own. Either way, these are a much healthier option over plastic eggs and perfect for many things.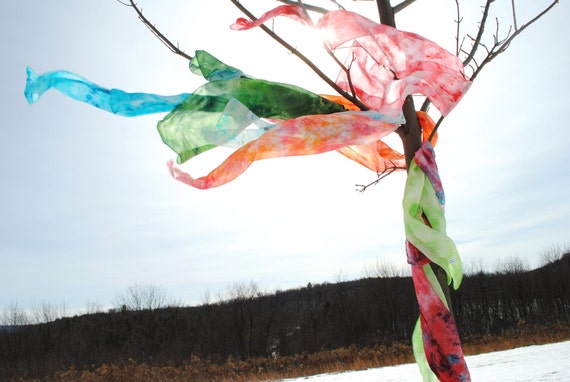 G, U, H, D
A great addition to any learning bin that will lead to many an adventure in creative play. The above Etsy store as well as many other offer beautiful options already ready to gift, or if you're feeling like you want to DIY, you can purchase
Blank Silk Scarves
, and dye your own.
This set is perfect for a springtime gift; therefore, it makes a perfect basket filler especially because Easter is so early this year. You can buy a kit like the one above, or you can put together your own mix of seeds, garden tools, etc.
Have fun filling those Easter baskets! I'd love to hear what you put into your children's baskets in the past or what you're planning for this year- Please share!
Sarah
Want to follow my blog? It's easy - subscribe via the RSS or email links in the top righthand corner.
All rights reserved. ©Sarah G. Ortiz
::This blog post may contain Amazon Affiliate links.
By clicking through to make a purchase, you help to financially support TO+M::