St. Benedict is a Saint who is best known for his "Rule of St. Benedict," whose 73 chapters concentrate on spiritual precepts for monks living in community under an abbot as well as administrative advice for the practical running of a monastery. It has been the leading guide for monastic communities for 1500+ years and encourages both Peace
and
Prayer + Work. Because of his writing and encouragement to balance out what is needed for the monastic lifestyle,
St. Benedict is often referred to as the founder of Western Monasticism
. However, the Benedictine Order came about later in history and contrary to what might be though, was not founded by Benedict.
St. Benedict was born in 480 along with his twin, Saint Scholastica, to a Roman nobleman in Nursia. At around the age of 20 he abandoned his studies and left home to become a monk. He spent three years in solitude before going on to live in community and set up monasteries. Over his lifetime, he founded twelve communities of monks. He died around the age of 63 (there is debate over the year of his death) on March 21 soon after the death of his twin.
His feast day is celebrated July 11th
, the day that his relics were moved to a monastery in Northern France. St. Benedict is the patron of Europe, beekeepers, farmers, monks, copper smiths, civil engineers, and students. He is also the patron against fever, gall stones, kidney diseases, poison, temptation, and witchcraft.
Also,
here is a fascinating piece
from Catholic Culture on everything you might want to know about
the Medal of St. Benedict.
Our family is excited to be celebrating this feast day of this great man of God this coming Thursday. Here are a few wonderful ideas I've found and compiled from around the interwebs.
Food
I didn't find any traditional foods, but did I find these two great options:
Although this isn't exactly named after St. Benedict,
Eggs Benedict
(this recipe from Ree Drummond, posted on Food Network) is a fitting meal to honor the Saint.
From Catholic Cuisine, these is
A Little "Pizza Italy" with St. Benedict
, a pizza decorated with the the cross from the medal of St. Benedict. I think you could easily switch out something else if your family wasn't a fan of olives or pepperoni. This is what we're planning to make!
Crafts + Activities
This
St. Benedict Holy Medal craft
from
Equipping Catholic Families
is awesome! She even includes a printable template that she used to make theirs. I'm so excited to make this with Dom. For those who want something a bit less demanding or if you don't have the supplies on hand, you can always just print out the template as a coloring page,
OR
Print one of these Coloring pages of St. Benedict:
St. Benedict
B is for Benedict
by Shower of Roses
To Read
The obvious choice is
The Rule of St. Benedict
- if you own it all the better. Otherwise, it's a great addition to any Christian library. You can also
read it in full
on the website of Christian Classics Ethereal Library. For older kids, it might be interesting to read a couple of these short chapters as part of your feast day activities.
My kids are a little young to grasp St. Benedict's writings, so I think we'll stick to these two:
The Holy Twins: Benedict and Scholastica
by Kathleen Norris + illustrated by Tomie DePaola
There is a story on St. Benedict included in the
Loyola Kids Book of Saints
.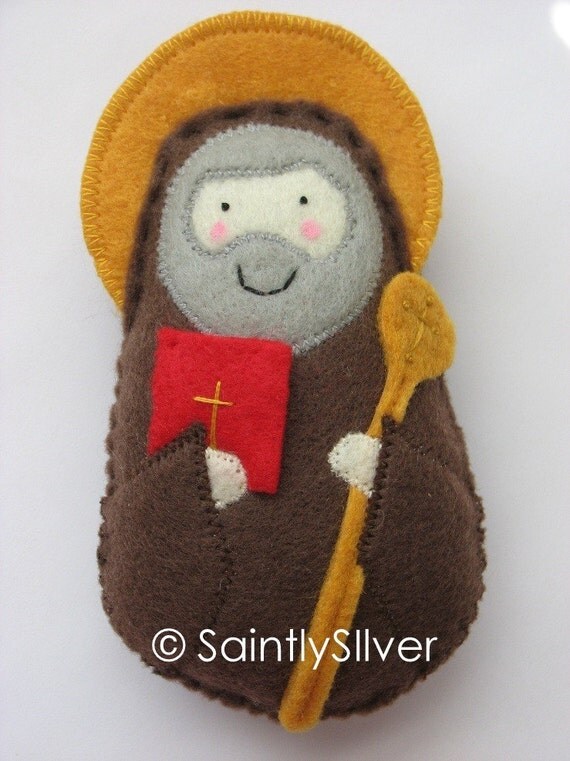 Check out this adorable Softie I that is handmade by
Saintly Silver
on Etsy. I love the Saints she handcrafts, and these are a perfectly priced gift to include your smallest ones in the learning of the Lives of the Saints.
Lastly, here is a prayer from St. Benedict:
The Spirit to Know You
Gracious and Holy Father,
Please give me:
intellect to understand you,
reason to discern you,
diligence to seek you,
wisdom to find you,
a spirit to know you,
a heart to meditate upon you,
ears to hear you,
eyes to to see you,
a tongue to proclaim you,
a way of life pleasing to you,
patience to wait for you
and perseverance to look for you.
Grant me a perfect end,
your holy presence,
a blessed resurrection
and life everlasting.
Amen.
Even for those not called to the vocation of the Monastic Life: it is still a beautiful thing to live out your life with Prayer, Order, and working together in Community. Remember his motto in your daily life: Ora et Labora. Work and Pray.
Hope your St. Benedict Day is blessed!
Sarah
Want to follow my blog?
It's easy - subscribe via the RSS or email links in the top righthand corner.
All rights reserved. ©Sarah G. Ortiz
::This blog post may contain Amazon Affiliate links.
By clicking through to make a purchase, you help to financially support TO+M::